Population types¶
For most standard models, there is a simple relationship between the disease cascade specified in the Framework, and the populations specified in the databook. The two are separated, such that every population contains the same compartments, as shown in the example below: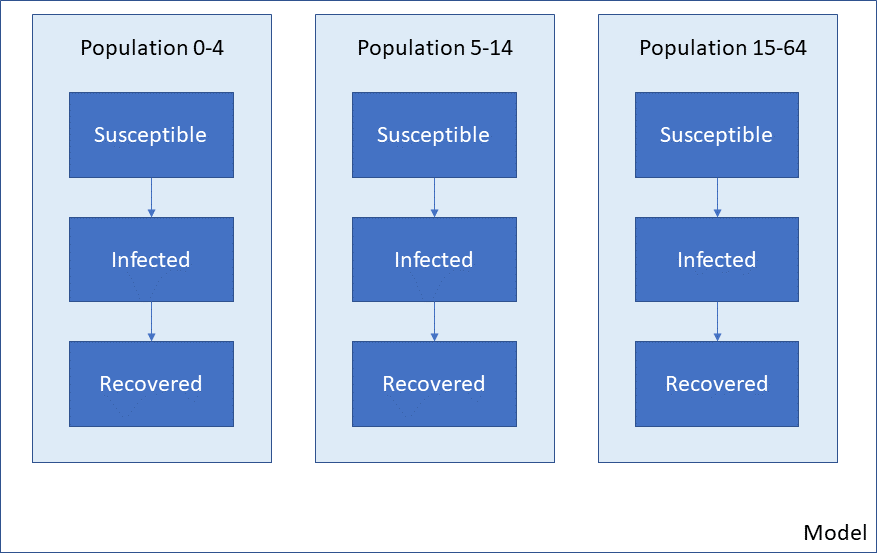 A different Framework, such as one for a different disease, will have a different set of compartments (e.g. different states that a person may be in) but still, all populations have the same cascade: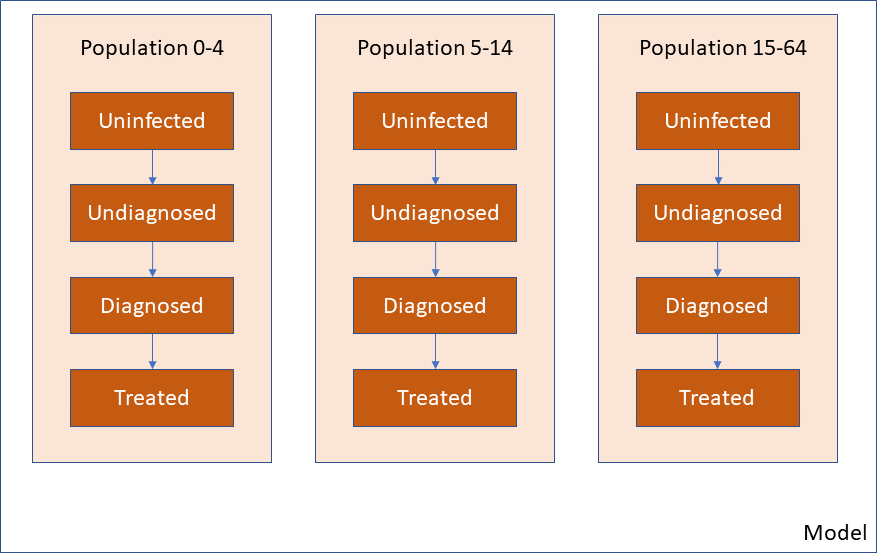 In some cases, however, it would be useful to define populations that have different disease cascades. Three initial example use cases are
In vector-borne diseases, the disease states of the vector are likely to be different to the disease state for humans. Also, vectors may interact with multiple human populations

Some diseases may involve the environment (e.g. dynamically varying water pollution)

Some models may be different cascades for different human populations. For example, a nutrition model may have one treatment cascade for adult women, and a different cascade for young children
This type of scenario is illustrated below. Note that the population type is reflected in the colour of the populations, not the populations themselves.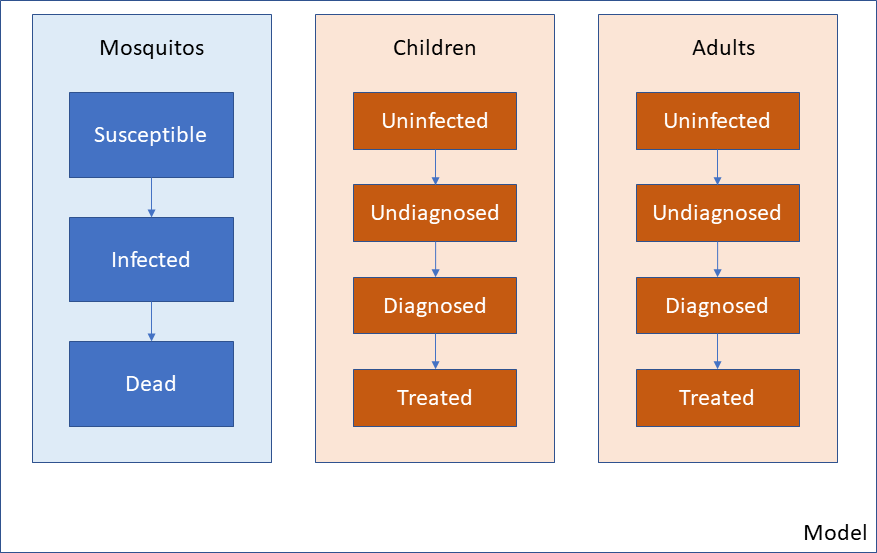 Atomica is able to implement this type of model by using the optional 'Population type' feature. This feature works in the following way
You can define several population types in the Framework

Each quantity in the Framework (compartment, characteristic etc.) gets assigned to a population type

When creating the databook, you need to specify not just the name of the population, but also its type
The result will be a model similar to the one above - that illustrative example corresponds to having two population types in the Framework, and three populations in the Databook.
The main purpose of having different population types is so that their dynamics can interact when simulating the model. For example, human prevalence might dynamically affect mosquito prevalence in a malaria model. These interactions can be specified in parameter functions in the framework.
Caution
Transfers assume a 1:1 mapping of compartments between populations. Therefore, it is not possible to have transfers between different population types
The restriction that transfers cannot take place across population types helps to clarify the use cases where population types are appropriate, as opposed to simply adding compartments to an existing cascade.
There can never be a transfer between a mosquito population and a human population, because this would represent mosquitos turning into humans. Thus, a population type would be appropriate for this

Similarly, there can never be a transfer between a human population and the environment e.g. a human turning into a lake. Thus, an environment population to track water pollution would be well represented with a different population type

There may be a separate set of disease states if a model includes coinfection. For example, there may be more possible treatment states for TB+HIV compared to TB or HIV alone. If it is possible for an individual to move from TB to TB+HIV or between other coinfection states, then these should not be different population types. Instead, the all of the coinfection states should be added as compartments within a single population type

Some nutrition models for maternal and child health model adult women and children completely independently, such that no children grow up and become adult women. In these types of models, children simply exit the model once they reach a certain age (e.g. 5 years old). For this type of model, it would be suitable to have separate population types for women and children. That way, stunting and wasting compartments would not need to be created for adults, only children. However, if it is possible for children to become adults within the model, then there should not be different population types - otherwise, it would be impossible to transfer people from the child populations to the adult population
Note
The general rule is, population types are suitable if it is not possible to move from one population type to another, different species being the canonical example
Adding population types has effects on the Framework, databook, program book, and plotting. We now discuss each of these in detail. For a worked example, refer to the combined_framework.xlsx example in the Atomica model library, together with the associated databook and program book. The screenshots below are drawn from this example